10 on 10 is a monthly column featuring 10 pieces of visual inspiration. Each month has a theme, and this month's is: hearts and love.
In honor of the launch of The Love Project, I feel like hearts are in order. I knew of a few hearts and love historically represented in design (Milton Glaser's iconic "I Heart NY", for one). But I was also happy to stumble upon some contemporary designs and illustrations that were fun to look at. Prints that wink, posters to hang, and women who rock: get inspired by the following collection.
Note: You ask why the title "10 on 10"? Because these posts will come out on the 10th of each month. "But, Maria, you missed the 10th." Yeah, I know. But I had to show you the love. Even if it's a few days late.
Heart print by Wink
Book cover by Jozef Baláž
Heart's Dreamboat Annie
Robert Indiana's Love sculpture in New York and in Jerusalem, Israel
Milton Glaser's  I Love New York logo
Linda Eliasen's Altitude Design Summit letterpress coasters
Rubro Iced Tea logo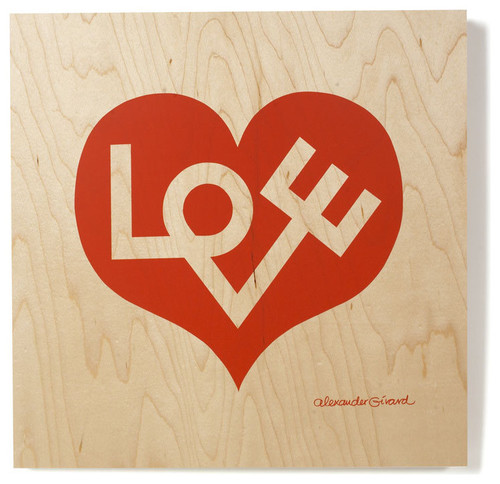 Alexander Girard's Love Heart print
Two lovely album covers: Young at Heart by Doris Day and Frank Sinatra. Anyone Who Had a Heart by Dionne Warwick.
Comme des Garçons Play logo designed by Filip Pagowski